Way more difficult week than anticipated :S
I haven't been able to produce any mini or to make any progress on... well, anything! But don't worry, I have no moral issues on cheating and showing pics of old that I have never shown on the blog :D
Gaunt's Ghosts need little introduction in the WH40K universe. A Regiment of the Imperial Guard, their home planet, Tanith, lost forever, wandering through the galaxy in a Crusade, trying to survive the horrors of the Archenemy. They represent the quintessence of Warhammer. Mere mortal men and women, facing terrible foes and the insanity of Chaos, enduring and fighting desperately for their own survival.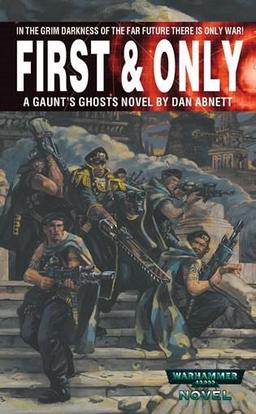 First & Only
was the very first Warhammer book ever edited in Spain (sigh. Black Library policies) and it truly brought everything you may possibly want to see in an action story. It's perfect for the neophyte in Warhammer and will get you hooked to the characters and the story. I think the latest books in the series were not up to the level shown in the first ones, but that's only my personal appretiation.
Anyway! This is about minis! I'm not sure of the year this set was released, but it's still available at the GW web. So I painted these some years ago; it's just a kit of a few characters.
First & Only
Colonel-Comissar Gaunt is certainly not my favourite mini of all times. Though being extremely dynamic, its slenderness or maybe the sculpt itself make me perceive it like kind of frail. However, it's one of the few charging minis I can remember, and that's something.
Do you want to live forever?
Colm Corbec, second in command of the Regiment, is a cool mini. Just as I thought he should look like:
The charming guy. Yes, this is the nice guy in the story
'Mad' Larkin is another cool character with a mini that doesn't disappoint. Maybe this one was supposed to look thinner, not Gaunt! :P (at least in my mind)
I see dead people. Well, not dead at first. Dead after I see them
Tolin Dorden, chief surgeon. The quiet man. I really like they decided to sculpt this one, instead of a more obvious combatant. Field medics are not often seen in miniature, and the character really deserved it.
I'm too old for this shit
Opposite to old Dorden, young Brin Milo, the youngest at the Regiment, with his bagpipe:
Future bagpipe, you know
Finally, a generic Tanith trooper with a plasma gun. I think that, given the rest of the group, they could have sculpted another character, but hey, I'm not complaining.
Ahem. So I'm the only one without a name or a cool story. Well, this sucks
I just took this new pic with my new scenery pieces:
Well, this is an infiltrator unit, after all
Over the years I've seen some really cool conversions all over the web of full powered Tanith squads. I never did so (as everybody was already doing that!), but who knows, it's never too late, I may begin it now that no one else is collecting Tanith, hehehe.
If you haven't read the books (seriously?), you really need to.
Well, this is all for the moment. Let's hope I can get back to the brushes this week!!