You may remember (or you may not, so let me
add a link
) my latest Space Shark was the Apothecary. I started using a kit and later on I changed my mind and used another one as the base to get the final result. So I had a pair of legs ready to be used on another Space Maorine! :P
I started a degree in Medicine, but I quit
The basic shape is quite straightforward and simple, so from that point I only had to add paint!
I struggled about the idea of painting classic stripes on the helmet
But I wanted all the attention to be focused on the Maori patterns
What do you mean by 'compensating something'?
The inscription on the chestplate says Ika a Whiro, which is Maori for "experienced warrior/war veteran", a proper motto for the guy.
But that's not all! I've also managed to make another one, just at the same time I converted this one. I forgot to take a pic of te original model. It's this one: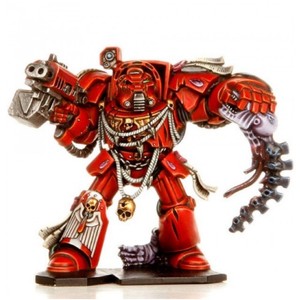 Taken from eBay
This one required some amount of work, but I finally got this:
Yes, slightly different
I really wanted to keep the power fist with the Genestealer head, but I think it's a weapon that doesn't fit in the Carcharodons vibe. They need spikey things, like power swords, chainswords, knives, whatever. So I changed the whole interpretation of the man. The chainsword is a conversion too, simply two regular chainswords put together to make the weapon look larger (or in scale).
So, after spilling some paint on it...
I'm just rehearsing my tennis drive
I used a Grey Knights left arm. It has an awful empty space so you can place the stormbolter on it. Awful. I placed a heraldry shield on it and painted a Hei Matau, the Maori fish hook that symbolizes good luck and safe travel through water.
I keep on humming Moana OST
I also lost some fear about painting other symbols. So I dared to do this:
I may repeat these things on more Space Maorines
Not happy at all with the sword, I have to improve that pattern
So, characters apart, this is the true beginning of a Space Marines Veteran Squad:
With just 50 more I can do a Codex cover
Slow pace, but still going on...