While working on other larger projects, I sometimes need 'something different', some fresh air. You know, I guess it's the same for everyone, a palette cleanser, anything that gives you the sense of completing things. Whatever.
Fortunately (fortunately?) I have tons and tons of standalone projects that can serve that purpose. My choice for today is this Ork Mekboy:
Do I look classic enough for you?
It belongs to
Knightmare Miniatures
ranges, which keep on producing real beauties. This is the reference: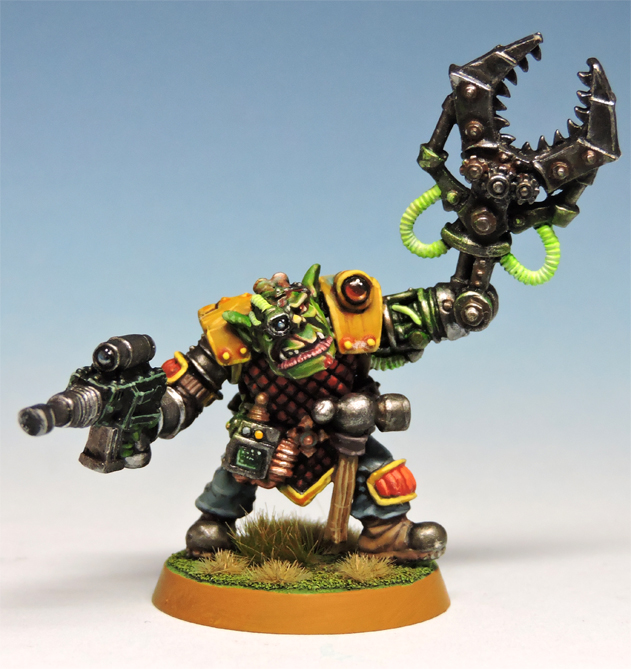 You can see the original has a huge mechanic claw. However I haven't been able to find it within the lead mountain. It will probably appear some day when less expected.
Anyway, I'm not such a huge fan of such a huge claw, so I think I would have replaced it even if I had found it! Delving in the bits box I found this:
I can't remember who gave it to me or what was the original mini
I thought I could make it work.
Well, not this way!
Maybe like this!
It's but a plastic stick, a flamethrower nozzle and an axe blade. An Ork flamestick. Yup, I just made it up.
Painting wise I tried orange. It's been quite a long time since I last painted an Ork, specially these flak vests, and I thought it would be a touch of colour.
I liked it. Something different from the classic Clans
Then I messed it up a little. I tried a yellow and red chequered pattern on the borders of the vest:
And it clearly didn't work
So I had to go back to the most classic b/w checkers. Well, long story short, this is it:
Huh, I miss da claw
I should have painted the whole vest in checkers :D
Do you know the one of the Mekboy and the Commissar...?
BONUS!!
I also had this other mini rolling over the bench for some time, a commission for
Shadespire
Underworlds, as part of the
Stonecast
:
Huh, there's more foliage than stone here
It's the special anniversary mini, Knight-Questor Larissa Shadowstalker (of course I had to look it up!), with a head swap to keep the masked statues theme of the band.
Man, I'm complaining the maintenance crew
Oh, I totally forgot how to play this game. Shame on me
This is it for now. I'm currently working on the minig town, so I expect to have some presentable progress anytime soon(-ish) and more stuff. Let's keep on working!