OK, so coming back from this post, here I am again!
I had finished the basic colours on the Agreousa, but the hull still had quite a lot of work pending. I could (and maybe should) have started with some other stuff, but I felt the urge to set the anchors in place, don't ask me why.
And so I proceeded

The anchors are made of sticks, like the rest of the ship, but I tried to give them some iron looking with some slight verdigris effect.

Anchors away!

I know, it's kind of Painting Big Things 101, don't glue stuff on the main structure until you've finished painting it. But anyway, it's done.
Next thing I wanted to do was the eyes on the bow. You may have usually seen them painted on basically every illustration, so imagine my surprise when I discovered that these ophtalmoi (you see, quite literaly 'eyes') were sometimes also made as pieces of marble and attached to the ship's hull.
In fact, this is quite representative of the whole philosophy behind the triremes and, of course, this very project. The ships were kind of State-owned, but their maintenance, staffing and everything were commended to wealthy citizens as part of their duties. As a consequence, the 'captains' of the ships, the Trierachs, usually competed against each other to have the best trained and most impressive trireme.
I digress. The ophtalmoi. They were conceived, not just as a decoration (that probably too, just remember all those pics of modern planes with eyes and maws on them), but also as talismans to ward off evil.
Circa 500BC. On display in the archaeological museum of the Piraeus

I took that pic as a reference, instead of the usual modern illustrations. I could have sculpted the eyes using greenstuff, but I think just a paper will do. So I got this:

Music on: The eye of the tiger trireme

There's something a little bit unsettling about these eyes, isn't there?
I should have put "Greek Fire". Hmm

Anyway. Once on the bow, the trireme looks like this:

This ship has seen things

Back on the general decoration subject, there is no archaeological evidence of actual paintings on triremes, we just have some records and depictions, and then some modern illustrations trying to be, if not accurate, at least good looking. Herodotus (Histories, III, 58), when talking about the events on Samus in the 7th Century BC says that "all ships in these early times were painted with vermilion" [NB: in fact the original speaks of what we nowadays call red ochre, the minium, the mineral pigment]. So every artist has painted their triremes red since. But the very words of Herodotus imply themselves that, by his time, not all ships were painted in the same way. There is clear evidence that the maintenance of a trireme was quite a heavy economic burden, and it was a matter of prestige for the Trierach. Given that, there were real struggles to show off and to have the most pompous ship.
What am I trying to say? The usual illustrations depict triremes like this:
Cool, right. I'll give you that

The Greek Navy even has the Olympias, a functional trireme. Not having actual archaeologial evidence, as said before, they were rigorous and opted not to decorate her, in order not to make her look anachronistic or ridiculous:
No, seriously, how cool is this?

But let me make some considerations. Under the light of what was said before, i.e., that we know that the triremes were in fact painted and decorated (my guess is that not only in red) and that the Trierachs had real competitions to have the most luxurious, best looking trireme, as it was a matter of prestige for them and their families, let's think how could these ships be decorated.
I mean, we have extensive and undisputed evidence that, for example, the Acropolis looked something like this:
It didn't look like that when I visited the place

Or that they actually painted their gorgeous sculptures like this:

Oh, man, thin your paint! That one needs Agrax!

So, please excuse me if I find hard to believe that the very same guys that made these things to... well, everything...

They painted extensively and colourfully every single thing they had a chance to!!

... left their ships with all that bare wooden surface and painted just the bow in red. Sorry, no way.
So, with that idea in mind, I started to work. First of all, the Trierarch needed a chair worth of the owner. The Trierach's seat is the most obvious indicator of his status, so he needs it to be obnoxiously petulant. He's not gonna sweat handling an oar, that's for sure.
I even tried to represent a cushion on the seat

Now for the big, hard work. How would I decorate the side of the trireme? Well, I think it's quite obvious, with waves. Greeks painted gorgeous waves:
Unfortunately I'm not Greek

But with enough patience, I could make something decent

Horaay!
Doing the other side proved tricky, as I had to do the waves pointing opposite.
They look worse, but I hope you won't notice at table distance

I also had to do it on the bow. I like how it gives an impression of "crowning" the "face"

Now you undestand the eyes. Mine were just the same at this point

But the upper side needed something too. More waves would have been repetitive. I tried a geometrical pattern:
I should have looked for decals or something on the internet

BUT I WAS JUST TOO BUSY PAINTING THIS

A close-up to see my fall into madness

I guess it looks difficult, but in fact I chose quite an easy pattern, something that could be replicated automatically: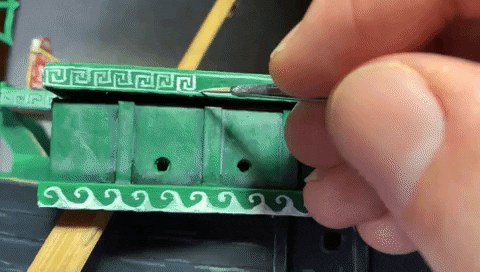 And repeat. And repeat. And repeat

Of course it's mentally exhausting and took me some days. There are some other pics of the process:
Sssss. It musst be painted, my preciousss

The good thing on this is that I kept the same pattern for the other side, no need to invert it:
And repeat. And repeat. And repeat
Until it's done!!

The final touch was to paint the vertical piece on the bow (the acrostolium) black. It adds some contrast, but I didn't want to add a new colour. This is meant to look decorated, but not as a carnival float.

Best pic I could take

Additional decoration on the stern

And a final pic of the finished hull:
Seriously, it's painfully difficult to take pics of this monster

This is it! I consider the hull, i.e., the ship itself, done. So what's next? I need to work on the oars, the base and the crew. But I think I can consider this project in quite an advanced state of progress. Anyway, if you don't mind, I guess I need a break to recover some sanity points.
Let's see what other stuff I have unfinished...