I've begun to paint the Hybrids from the Overkill box. My first idea was doing just like the Space Hulk Genestealers, i.e., painting them all in a row. But woah. No way. I have hundreds of bits spread and scattered all over the workbench. I do need to part them into small groups. So I'll be doing different batches of similar minis. So let's go!
I'm seriously considering modelling this image in 28mm
The plan was making the robes pretty distinctive. The Cult is recruited from miners (at least that is what I understand from the minis), but I wanted this bloke to look clean, totally upper class. I'll go dirtier with the rest, but not with this one.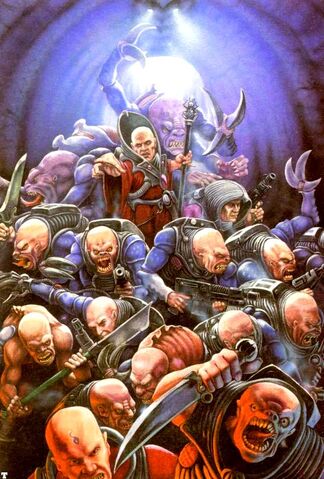 I was tempted to replicate this image, but went for turquoise curtains instead
If this one was the religious head of the Cult, only below the Patriarch itself, now here we have what looks to be the military leader:
I want a cap! Cannot lead without a cap!
Here you can see what's the Cult appearance going to be. I've seen gorgeous minis over the internet, challenging patterns and even unveliebable colours. I was goint to paint them in orange, as other workers in my urban project. But I changed my mind. Brown will serve the idea of the mining guild better. So I will go for chocolate brown for the jumpsuits and grey for the aroured parts, just for contrast.
We also have two familiars in the sprue, but no idea of what are they gaming wise:
So this is how we start! I'm currently assembling and painting the 3rd-4th generation Hybrids, as they have like a million pieces and I want them finished before I lose something. For the moment this is it.
You know, Bob, you told me we were starting a Cult. You call these two a Cult?
And I'm serious, the Governor really wants his curtains back
I hope I'll have some more progress soon!