Second take on the same theme. Only the most veterans will remember that I've already visited the works of Antoni Gaudí regarding the World of Twilight project.
Yet here I go again! A new attempt! It's not an obsession until I repeat the same theme at least once more!
So just to see what I'm talking about, please keep this pic in mind: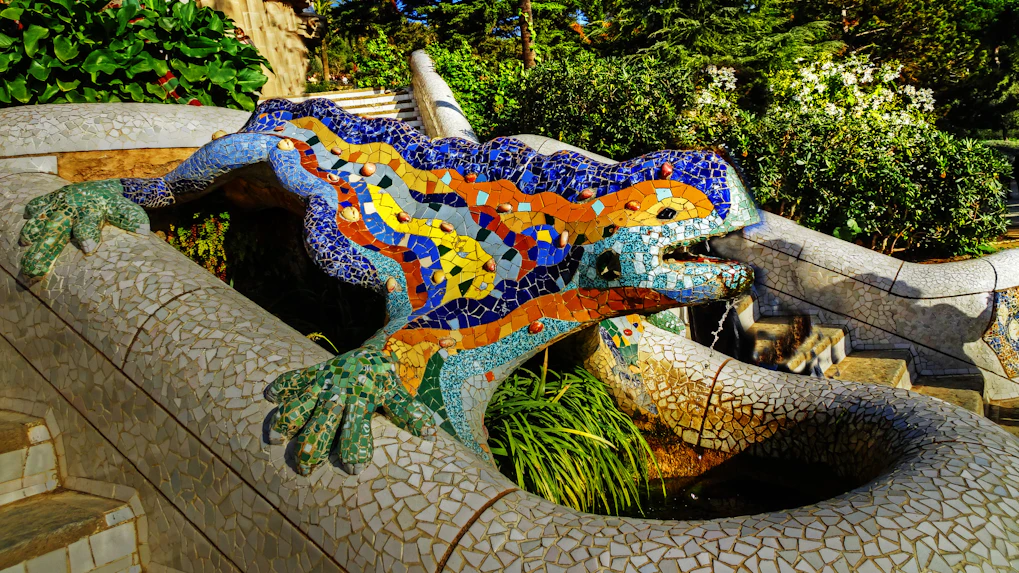 A salamander who peacefully dwells in Barcelona
When I saw the mini you are about to see, the
Ruhnko
, I simply couldn't resist, I had to try it again, I felt like I had finally found the perfect model within the World of Twilight ranges to do this. So under the 'try better, fail better' philosophy, I commited myself to do it again!
Did I get closer this time?

Cousin!!
There is no profound rationale behind this, nor I pretend to do high art (whatever that term even means!), I simply thought it could be a different, nice thing to try on one of these gorgeous lizards, something to break with previous installments of the project and bring new patterns to my work.
So I tried this second one, changing colours

Well, once I've started with such a pretentious approach, how will I keep your attention?
Let's try a f%&#ing dragon.
You see, this model, the Grimblar, is absolutely awesome, both in design and the pose. Yet it has its own challenges:
How will I get to paint the belly or the base once I've glued the pieces?

I reached the conclusion that I wouldn't be able to do such a thing, so I had to make a decision:

I made them first and then glued both halves

Little green stuff was needed, the pieces fit very well in general terms

I have to admit this was a first for me, but it was an interesting thing to do. I don't think I could have painted the beast the same way once assembled.
I went on blue (slightly turquoise) in a kind of Avatar-like move. No, not the Airbender guys. The James Cameron movies and stuff, you know. Yup, I get inspiration from the works of European Art Noveau, and then I hit a Hollywood blockbuster, all in the same post, that's the way this blog works. Sorry, pals, if you looked for coherence you should look other sites.

I have nothing to do with the Spinosaurus, I'm telling you

Once I had chosen blue as the main colour, I knew I wanthed bright, warm yellow/orange for the crest. I didn't want many more colours on the mini, so the eye wouldn't be distracted from the focus point, so that's why I added some white on the back, hoping it was neutral enough.

Octopus eyes were another first for me

I'm realising just now that I have to fix that blue on the edge of the base

Now let's go for something totally different (as if you had seen just the same kind of stuff so far).
But I mean 'different'

The great Akitiin is quite a different design from other monsters in the Anyaral setting, and quite a beast to behold!

Somehow 'hairy giant spiky worm' didn't work well as a catchy name

I have some more smaller Akitiini pending, but those will have to wait for another day. For now just have a look at the unexpected bestiary, with a mini for size reference:

I can no longer tell if I'm seeing monsters of the Warp or just regular animals

I have quite a large batch of World of Twilight minis ahead, but I'll try to work on some other stuff as well. Stay tuned for my next unexpected post!